Coaching to Implement Global Account Strategies
DESIRED OUTCOMES
develop global business with global accounts

greatly increase long-term revenue with key global accounts

manage risk and control costs of doing business globally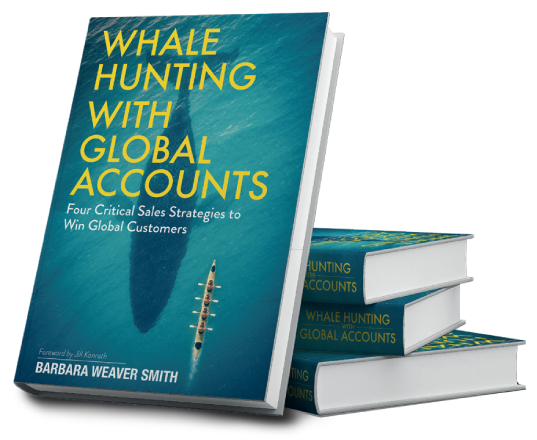 Schedule a four-month coaching program with our founder, Barbara Weaver Smith. This program aligns with Barbara's newest book; we will cover one of the four critical sales strategies in depth each month.
It's designed to include members of the senior leadership team, led by the chief sales and marketing officers. The CEO and leaders of IT, finance, product, operations and others should be involved at all key points. The program's purposes include:
lay out your global account strategy
organize your global team or teams
determine how to train global account pursuit and management teams
how to integrate product/sales/marketing interests with service delivery
how to teach your sellers to bring insights to global accounts
the role of senior executives in these accounts
Strategy One: Knowledge—Look Deeper
How would you choose which accounts to think about serving in a global way?
What are your criteria to consider an account "global"?
What do you, your account teams and your company need to know about your global accounts?
How do you find out what you need to know?
How can you be sure that all the right information is being shared appropriately?
What are your best sources of information about doing business globally, accessing global channels, finding appropriate partners or joint ventures, understanding regulations?
Strategy Two: Structure—Get Organized
What are the best ways to organize limited resources to serve one or more global accounts?
How can you engage all of the people who need to help sell a complex deal with those who will deliver your services?
Can you use inside and field sales?
What kind of "team" is a global sales team or a global account team?
How should a global account team be compensated?
Strategy Three: Process—Beyond Steps
What can your CRM do and not do for your sales process?
How can you represent and teach a sales process that goes far beyond steps?
How does your sales team learn to lead the buyers' process for your global customers?
What kind of technology tools do you need to manage the sales process for multiple, simultaneous deals and future deals with a global client?
How can you predict what's in a global customer pipeline?
Strategy 4: Vision—Lead the Way
How can your management team instill a sense of "vision" about the ­outcomes­­ that clients can achieve after they finally receive your services?
How can your seller teams craft a vision powerful enough to lead your customers through the problems of consensus-building, the pain of change, and the inertia of bureaucracies?
What kind of business acumen do your salespeople and account managers need to acquire, and how can they acquire it, in order to satisfy your customers' needs for a vision that they haven't come up with yet?
Format
Bi-weekly team calls, unlimited emails, review of all your plans and decisions, weekly calls with team leader, pre-planning, meeting agendas, list of action steps following each call. To make it easy for you, only the people essential to each topic area need to be involved in each call.