Grow Your Business with
Bigger Deals, Bigger Customers
Nothing grows your bottom line faster than new business with your global sales accounts, yet companies like yours are leaving BILLIONS OF DOLLARS on the table.
Your customers are going global — are you? There's a tidal wave of offshore expansion, and if you're not ready to grow globally with your customers, even your domestic business is at risk.
In Whale Hunting with Global Accounts, Barbara Weaver Smith takes business owners and executives, national and global sales leaders, and large account sales reps on a deep dive into the four critical sales strategies that will make you winners in competition for global accounts:
Knowledge-Look Deeper
Structure-Get Organized
Process-Beyond Steps
Vision-Lead the Way
The voices of fourteen global sales experts — current practitioners and sales leaders — contribute seamlessly to the narrative for a powerfully multinational perspective. Weaver Smith will teach you how to become a smarter, more insightful, global account team who will win unlimited long-term business.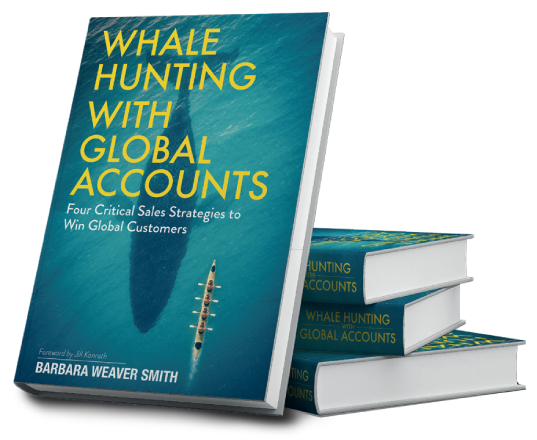 Grow your company with deals 10x to 20x more than your current average sale!
Your B2B businesses can achieve explosive growth by implementing a repeatable process to land bigger deals with bigger customers.
The Whale Hunters Process™ will move you beyond the typical small and midsize business growth solution, providing you powerful steps and tools to find, land, and harvest whale-sized accounts that will lead you to greatly exceed your industry's typical rate of growth.